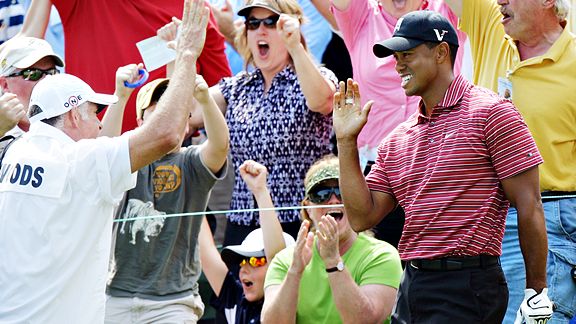 I know that rooting for Tiger Woods is sort of like pulling for the Patriots to beat the Lions - the win is going to happen regardless of my rooting and enthusiasm. That said, what Tiger did Sunday afternoon at the Memorial was simply amazing.
14 for 14 in fairways hit.
Only missed 7 fairways ALL WEEK!
Putted flawlessly on greens that ran 14+ on the stimp (faster than Augusta).
I'm not trying to gush here or lose my credibility as a crusty member of the media elite (the print guys who never ever leave the press center and actually set foot on the golf course they call home for the week), but we truly are watching history unfold when Tiger plays and wins. No player in my lifetime (or yours) has been as feared, as dominant, and as reliable in clutch situations. His recent final round collapse a few weeks ago made headlines because it just never happens.
So if you don't mind someone pulling for the favorite, rooting for Goliath, pulling for the titan to conquer yet again...I kinda like watching a legend grow while I'm around. It beats reading about it decades after the fact and wondering what it would have been like to see him play.