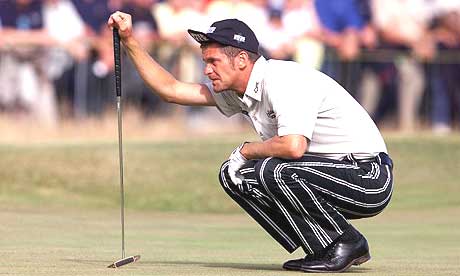 Ask most golfer to list the top golf apparel choices they usually consider and the roster will typically include: Ashworth, Nike, Adidas, Puma, Cutter & Buck. The styles being put out by these companies usually fit into a somewhat traditional mode, even with the recent burst of brighter colors arriving on the scene.
I also understand that our Euro friends have a different fashion flair that has been on display since way back when Jesper starting eating volcano dust. Skin tight, neon bright, goofy looking duds have been the norm for Euros for quite some time.
Having said that, what on earth can explain the fashion choices of today's Tour winner, Brian Gay? Bringing back slacks from circa '78 is a real head shaker to me.
I'll readily admit to being far out of the fashion loop. If it wasn't for the kind folks at Ashworth dressing me for the past several years, the only fashion statement I'd be making is "I dress in the dark." But thanks to the wise folks in Carlsbad, I'd like to think that the clothes we wear on TV/Radio appearances would have some appeal to the audience. (Make no mistake, I am NOT suggesting the wearer of the clothes flatters them in any way; just that the clothes are quite sharp.)
And then there's John Daly. I'm all for JD generating revenue in whatever legal ways he can find. His clubs haven't been paying the bills for quite some time and there is a long line of ex's with their collective hands out to take any penny he earns. But to sign the clothing deal with Barnum & Bailey and to schlep around in clown pants is demeaning even for golf's leading sideshow.
Yes, I understand the need to attract attention and be remembered. But I also thought the point was to help sell the product you are wearing.
Are YOU ready to shop where JD and Brian Gay shop?
Are YOU ready for the Watson/Nicklaus slacks from 1980?
Are YOU going to chuck your favorite shorts or slacks to end up in the skin tight neons?
Not this boy! I'll stick with Fred Couples and let my game provide the embarrassment, not my fashion.